Three die in surf tragedy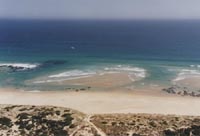 By BELINDA PARSONS
Friday 9th January 1998
A four-year-old girl has drowned and her two teenage cousins are missing, believed drowned, after being caught in treacherous surf at Gunnamatta beach yesterday afternoon.
And a seven-year-old boy, believed to be from the same family, was flown to the Royal Children's Hospital in a critical condition last night, after the worst day this summer on Victoria's beaches.
A 10-year-old girl was taken to the Frankston Hospital, where she was treated for shock and was last night in a stable condition. Two 12-year-olds, a boy and a girl, were treated at the scene.
The children were swimming about a kilometre away from the patrolled area of the beach when they got into trouble about 3.30 pm, a Surf Life Saving Victoria spokesman, Mr Tim Gentle, said last night.
Three lifesavers tried for 30 minutes to revive the four-year-old before she died. They resuscitated the seven-year-old boy, who was taken to nearby Rosebud and airlifted to Melbourne.
A police helicopter late yesterday joined the search for the two missing girls, aged 15 and 17, believed to be cousins of the dead child. Two boogie boards are understood to have washed up on the beach nearby.
The Southern Peninsula Rescue Service, Police air wing, Portsea Lifesaving Club members, Sorrento SES and police last night had scaled down their search for the two girls. The search was to resume at daybreak.
Mr Gentle said the girl's drowning brought the total number of deaths in Victorian waters to eight since Christmas including two heart-attack victims.
He said it was likely all of the people were caught in a rip and he repeated the warnings for people to swim at a patrolled beach between the flags. "Gunnamatta is a patrolled beach but they were a kilometre away from where the lifeguards are watching," he said. "It's so easy to walk up the beach."
Mr Gentle said Surf Lifesaving Victoria urged people not to swim against a rip and to instead swim sideways to escape the current. If in difficulty, people should raise their hand to signal a lifeguard and most of all, they should not panic.
He said a rip was indicated by discolored water, foam on the surface, waves breaking on each side, debris floating to sea and a rippled appearance when surrounding water was calm.
Gunnamatta, near Rye on the Mornington Peninsula, is one of Victoria's most dangerous ocean beaches. Its notorious rips have claimed many victims, despite regular lifesaving patrols during summer.
Gunnamatta and Portsea on the Mornington Peninsula, and Woolamai at Phillip Island, are among Victoria's most dangerous beaches, said Mr Nick Taylor, Portsea's chief lifeguard.