Hoax Coast Review - iSurf - Issue 1 - November 2003
Hot Action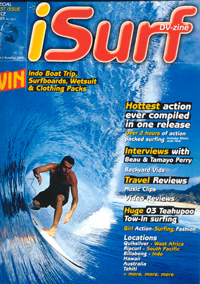 iSurf is a new concept; a DVD magazine, with no magazine. What you get is a DVD each month with over three hours of hot surfing action. When I think back to the 70s, of waiting months for a decent surf flick to appear at the Frankston Mechanics Hall and us all crowded in there hooting at home projection style shots of epic Pipe grommets today have got it easy with access to quality surf footage on tap.
Produced by local hoaxcoast legends Redeye and Gavin Duffy (amongst others) iSurf the first issue sets a high standard with huge tow-in surfing at Teahupo, Contest reports from J-Bay, Fiji, Tahiti and the Gold Coast and interviews with Beau Emerton, Tamayo Perry and more. There's a travel section, movie reviews, and girl action, which is not what you might imagine, but girls surfing and girls surf fashion.
The tow-in stuff at Teahupo was pretty radical; guys skiing into big mush-burgers that suddenly quadruple in size and intensity and turn into froth-spewing, foam-ballin' below surface monsters that are just outlandish!
The music isn't too bad either and the DVD is super-easy to find your way around. It's gonna be interesting to see if they can keep up the high quality of the footage each issue (next one due around March) I would have given it 5 stars, but there's no hoax coast footage! Where's Honeysuckle Bombi and Mitchell's Reef? What the *#22*!!!
Still, it's a great concept, and one the techo crew are ready for, though it's gonna be hard to read in the dunny.