hoax coast surf check page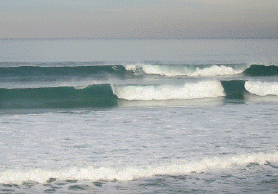 nowadays you don't have to drive down to find the reef 1' and onshore; you can check it on the net. This page contains links to the best hoax coast surf and weather sites that are around
cams and photos
crunchy point cam from triggers & another look at crunchy
flinders cam from triggers
gunna cam from triggers
second reef from triggers
sorrento cam from triggers
suicide cam from triggers
swellnet
(includes a mornington peninsula daily surf report with a daily photo )
coastalwatch
amazingly, no shots of the hoax coast but you can check out their shot of woolami and figure that gunna will be better!
surfIT
includes a gunna report (no pic)

weather
ozwind (is it onshore yet?)
satellite map
weather map
four day forecast from the abc

current weather from the age
gotta love the dashboard look of the csiro weather wall

other stuff
the tides (don't hit the rock at low tide)
oceanweather swell chart
southern ocean virtual buoy chart
planning on surfing the bay? how cold is the water?